asiaone www.asiaone.com.sg
Sharing experience in fight against cancer
Cancer patient says there should be no delay in seeking treatment when you notice something is not right in your body. -Sin Chew Daily/ANN

Sat, Aug 20, 2011
Sin Chew Daily/Asia News Network


Huang Chu-chun has been fighting cancer for 14 years and with his condition now under control, he hopes to enjoy good health for the rest of his life.

While sharing his cancer-fighting experience with Sin Chew Daily reporter, Huang had this advice for everyone. "When you notice something is not right in your body, there should be no delay in seeking timely medical treatment because being alive means you have everything".
Suffering from bladder cancer, undergoing seven operations

One day in 1997, Huang visited the toilet at mid-night and to his horror, he discovered blood in his urine. In the following morning, he immediately sought medical advice and suspicion arose that he might have a bladder tumour.

Huang was referred to another doctor in the urology department and laser surgeries were recommended to treat the disease. Huang later went under the knife in Penang. In the process of looking for a cure, Huang had undergone a total of seven surgeries in Ipoh, Penang and Kuala Lumpur. He inevitably raked up hefty medical bills too.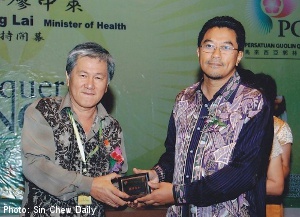 During a Guo Lin Qigong activity held earlier in Kuala Lumpur, a doctor is seen presenting Huang with an award in recognition of his courage in battling cancer for 13 years.

Doctors told Huang that cancerous cells had invaded his body and his bladder must be removed to prevent the cancerous cells from spreading throughout the body. Stunned and shattered by the news, Huang told himself that he would do everything just to regain his health, and that he must be strong in fighting the disease as life is precious.

In 2000, a friend recommended him to seek treatment in Hospital Universiti Kebangsaan Malaysia (HUKM), where he met a professor.

Once again, he went under the knife and the operation took nine hours to complete. Doctors created an artificial "opening" on his body and a small bag is attached to it at all time to collect his urine.

When he feels the bag has become heavy, he will drain away the urine kept in the bag.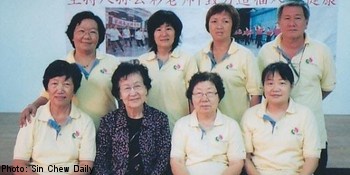 Above: Sun Yun-cai (front, second from left), a Guo Lin Qigong master, is taking a photograph with members of the Ipoh branch of Guo Lin Qigong Association. Huang at far right.

Resigning from job, concentrating on treatment

After being diagnosed with cancer, he joined the Ipoh branch of the Guo Lin Qigong Association. He believes that Qigong is helping his body to cope with surgeries as he didn't go through a hard time while he was being operated on.

In the following five to six years, Huang who previously worked as a sales executive resigned from his job to concentrate on practicing Qigong and receiving medical treatments.

Every morning, he practices Qigong with a group of friends. Their support and encouragement send him on the path to recovery as he battles cancer.

According to Huang, cancer patients go through stable and unstable periods in their cancer-fighting journey. Unstable period takes place in the first two years following a cancer diagnosis while the stable period takes place five years after a cancer diagnosis.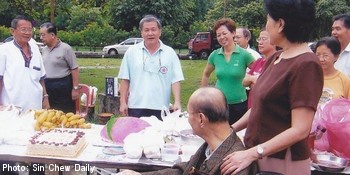 Above: The gathering held by Guo Lin Qigong Association.
Keeping an open mind

After being diagnosed with cancer, Huang realises that people should always be open-minded and remain optimistic about life. Though we can do nothing without money, we have nothing if we die with a lot of money.
After battling cancer for 14 years, Huang knows very well the importance of having good health.

Following his long battle with cancer, Huang has accumulated quite some experience in treatment seeking, cancer fighting and health care. He is willing to share his own experience with cancer patients, especially those who are suffering from bladder cancer.

Huang reckons that a great number of cancer patients feel helpless after being diagnosed with the disease. However, giving them support, as well as encouragement at the right time should provide them with little help.
Huang's profile

- Huang Chu-chun, 64 years old, retiree, has a son with wife

- Diagnosed with bladder cancer 14 years ago

- A committee member of the Ipoh branch of the Guo Lin Qigong Association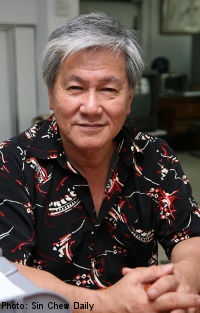 After battling cancer for 14 years, Huang knows very well the importance of having good health.