Mysinchew.com - 2008-04-15

Chen Lanfang.

Every morning at a quiet corner at the Lake Gardens in Kuala Lumpur, you can see a group of people, men and women, practising qigong, be it rain or shine. This is here that they find the hope that would support their lives, and each of the moves they make gives them the added vibrancy to carry on with their lives. They are cancer patients.
Their coach is Chen Lanfang,58, a cancer patient herself. She took up Guolin qigong in 1992, and has been coaching students while picking up the skills herself.
She shares with other cancer patients what she has learned and experienced, and helps them through the tough journey of cancer-fighting.
Over the past 10 years, she has been teaching Guolin qigong at the Lake Gardens. More than 500 people have learned from her and other instructors and have regained their confidence in cancer-fighting.

To Chen, cancer is nothing to be afraid of, and to be diagnosed with cancer does not imply that a person is doomed. As long as one remains cheerful and confident of ourselves, the journey of fighting cancer is not necessarily dreadful after all.
"She is still very much alive in my heart today."
As she has walked through the same dark valley herself, she develops a powerful sense of obligation to help other cancer patients walk out of their gloom. She is semi-retired, giving only a few hours of tuition every week.
Over these years of teaching qigong, she has been most impressed with her encounter with a 15-year-old female cancer patient.
"The girl was suffering from sarcoma in the stomach. Her family wanted her to learn qigong but she refused. She disliked me a lot."
"However, she was a very caring girl who had developed a very strong interest in environment-related work. So I approached her from this aspect and she began to accept me. We eventually built up a strong relationship."
Later the girl's condition became worse, and Chen went to her house or hospital to keep her company. At that time, Chen was in the midst of organising a cancer-fighting trip, and the girl promised to join after recovering from her ailment.
But she died.
"Even when she was terminally ill, she still kept on folding paper cranes and gave them away to those joining the cancer-fighting trip, wishing that everyone could recover as soon as possible."
"She is still very much alive in my heart today."
The above experience was but one of the many unforgettable events she came across during the past 15 years. Another incident was her encounter with a Chinese nose cancer patient hailing from Medan, Indonesia, who had gone through 102 treatment courses but was still full of confidence.
Her relationship with her students is often beyond what words could describe.
"I was diagnosed with breast cancer in 1986. An atheroma was found in me, but examination results showed that it was only a benign tumour.
The cancer only began to torture her four years later. After going through an operation and the subsequent radiotherapy, however, there was a recurrence after another two years.
In 1992, she came to know Guolin qigong by chance, and while practising qigong, she also gave lessons.
"The lessons are free, and the instructors work on a voluntary basis. Most instructors have their own full-time jobs, and are recuperating from cancer themselves."
"Only those who have gone through the same agony would understand the needs and feelings of other cancer patients."
If the weather is bad and they cannot practise qigong, they would be under a shelter and share their respective experiences and stories. They are fighting the same war collectively, not individually.
Chen is well aware of the fear and helplessness of cancer patients. They need the moral support and encouragement from people suffering the same destiny.
"Cancer patients need the support from other people, and the encouragement from family is of utmost importance."
"My qigong class is like a big family in which there is no place for conflicts of interests." (Translated by DOMINIC LOH/ Sin Chew Daily)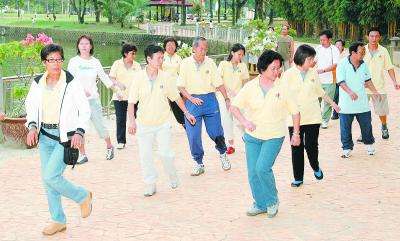 Chen (L1) giving a lesson in Guolin qigong.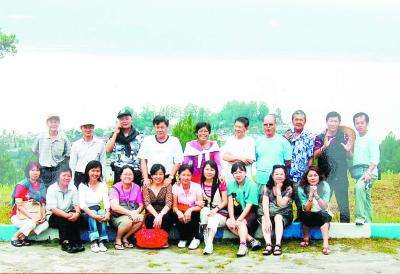 Chen (R6, back row) maintains a very close relationship with her students and they always organise trips together, like this one to Medan, Indonesia.
.